I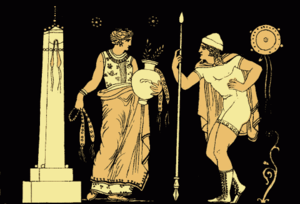 Electra and Orestes, from an 1897 Stories from the Greek Tragedians, by Alfred Church
In September of 2015 The Classical Greek Theater Festival of Westminster
College will mount and tour a new production of Sophocles' tragic masterpiece Electra.
"Sophocles makes the figure of Electra the dynamic centre of his play. She
dominates the action by both her physical presence (she is onstage well over 90% of its
length) and by her heroic nature. She is central to the plot, which focuses on her
faithfulness to Agamemnon and to the idea of revenge, despite persecution from
Aegisthus and Clytemnestra; on her extreme reactions to to the false report of Orestes'
death; and on her final deliverance from misery through his triumph over her
persecutors. Her speaking part is one of the longest in Greek tragedy, during which she
expresses the heights and depths of emotion, from bitter hatred to most tender love,
from the deepest sorrow to the most exalted joy. Like Antigone she is fiercely loyal to
the dead, in her case to her dead father. She is outspoken in her condemnation of his
murderers, steadfast in her longing for revenge, unflinching in the face of punishment
and even under threat of death." Jenny Marsh

Larry West will direct an ancient/modern production of Electra
featuring a recent American translation by Marianne McDonald. Spencer Brown will
create the set design with costumes by Erin West and with original music played live by
Abby Scott. Melanie Nelson will play Electra, one of the longest and most demanding
roles in Greek tragedy.